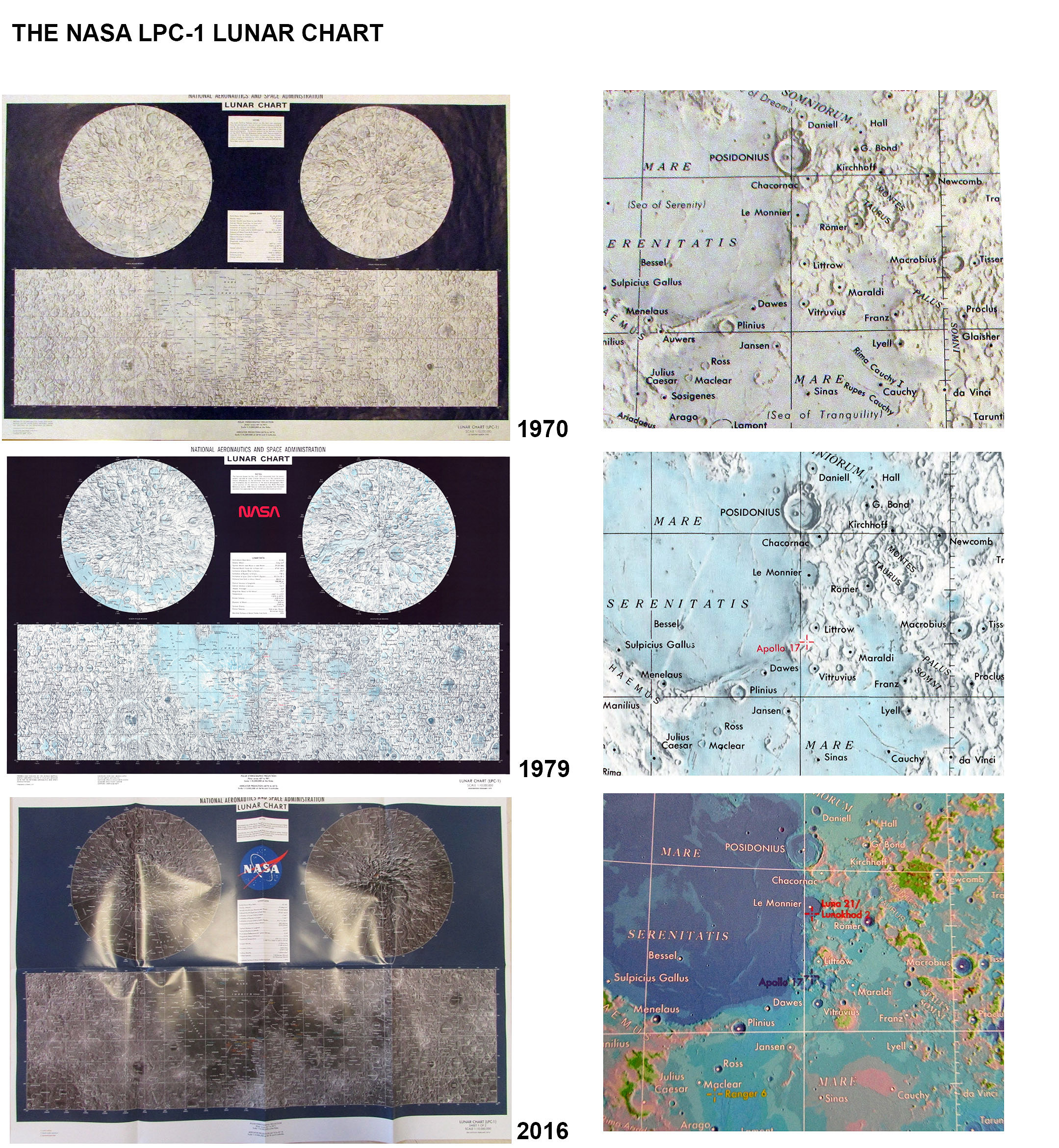 Scale 1:10M
Third edition, February 2016
Two sheets: albedo (photomosaic) and DTM (colored hillshade)
Dataset: Lunar Reconnaissance Orbiter Camera photomosaic / GLD100 DTM
Publisher: ASU
Second edition, 1979
Publisher: U.S. Defense Mapping Agency 1st Edition, March 1970
Prepared by the Aeronautical Chart and Information Center, United States Air Force, under the direction of the Department of Defense.
Price: 50 cents
Size: 26 x 38 in
LPC-1 was mosaicked from three 1:5M LMP-series charts (Lunar Earth Side, Far Side, Polar Charts).
"A special NASA edition of LPC-1 was issued in August 1970 in support of the 14th IAU General Assembly. Overprinted in purple were unofficial IAU names proposed by the IAU Lunar Nomenclature Committee. This special edition was printed in limited quantities and only file copies remain in existence." (Source)
This edition contained the English names of major features that were removed in the next edition. It did not contain any landing sites yet. LPC-1 did not display any NASA logos.
(Images from the map collection of Stanford University)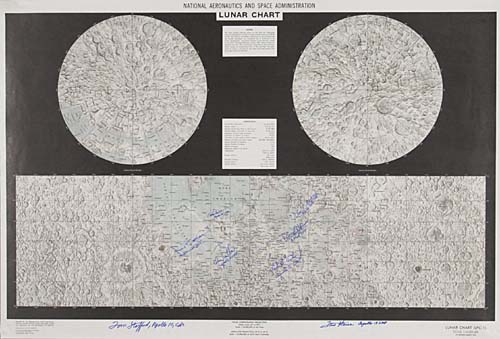 Fun fact: This map shown above, sold for $16,100, was signed by a member from each Apollo crew that either flew to or landed on the Moon during missions that occurred between 1969 to 1972, the last year of the manned lunar program.
To represent their lunar orbit or lunar fly-by mission, the chart has been signed and inscribed by Stafford and Haise with: "Tom Stafford, Apollo X CDR [Commander]" and "Fred Haise, Apollo 13 LMP [Lunar Module Pilot]", along white bottom border. Lunar landing crew members have each marked their landing area then signed and inscribed with: "Buzz Aldrin, Apollo XI LMP; Alan Bean, Apollo XII LMP; Edgar Mitchell, Apollo 14 LMP; Dave Scott, Apollo 15 CDR; Charles M. Duke, Jr., Apollo 16 LMP"; and "Gene Cernan, Apollo 17 CDR". (Source)
| Column name | Column description |
| --- | --- |
| Catalog ID (M) | N/A |
| Title | Title of map |
| Author | Name of mapper(s), or author, PI, map editor, illustrator, etc. with roles |
| Nationality | Nationality of author |
| Start date | Year when mapping began / or year or observation |
| Date of publication | Year of publication or completion of manusctipt (empty if not published yet) |
| Body | Target name (planetary body) |
| Online | Online references about the map |
| Projection | Projection of map. 2-hemisphere is shown here. |
| Scale | N/A |
| Orientation | Orientation of map [north up, south up] – only for historic maps (north: cartographic tradition, south: astronomical tradition) |
| Publication type | The type of work that contains the map. [standalone, journal, conference, atlas, book figure, book supplement, book plate, encyclopedia, multisheet, digital] |
| Type, purpose | Type of map purpose [generic, outreach, science, citizen, surface operation (pre mission), landing site (post mission), observer, opposition, index, reference, eclipse/transit/occultation] generic: not defined, outreach: maps for the general public made b |
| Primary Nomenclature | Laguage(s) of nomenclature displayed on the map [Latin, English etc., IAU, informal]. Latin for Latin nomenclature prior to IAU. |
| Ref (map) | Full reference of map publication or publication that contains the map |
| DOI | DOI number of map |
| ID (publication) | ID of map publication or figure number |
| Origin type | If this map is not original, the following codes are used: [L: language variant, N: new print, U: updated edition, C: copied / modified from another map, R: renovation map (digital version of paper map with slight changes), F facsimile. RP: republished in |
| Origin ID | Any maps that this map is based on or copied from. Database ID of original map. |
| Based on map | Name of mapper |
| Base (spacecraft, telescope) | Name of spacecraft / instrument |
| Original title | Title of map in original langage (if not English) |
| Publisher | Name of Publisher; manuscript or self-published. For journals and conferences, the name of the journal or conference. |
| Coverage | Coverage of map [global, hemispheric, regional, local, landing site, landing ellipse, traverse] |
| Target location | IAU name of target feature (if named) or near side, far side etc. (If nothing noted, it is global) |
| Country | Country of Publisher (original/translation) |
| Type, content | Type of map [photo, map, sketch map, drawing, globe, tactile, data]. Data for raster datasets. For vector data, see Feature DB. Drawing: no grid, scale, projection etc. |
| Image base | Base theme of the map [shaded relief, photomosaic, photo, none] |
| Theme | Theme of map [visual, albedo, radar, low sun, topography, elevation, geology, geomorphology, art, nomenclature reference, feature, landing site reference, opposition map, event (eclipse etc) etc.]. Low sun is optical photo with shadows and no albedo. Vis |
| Technique | Cartographic technique [imagemap, datamap, cartographic map, unit map, airbrush, pencil, line drawing/outline, contour lines, DEM, DIM, shaded relief / hillshading, raster data etc.] |
| Style | Details on style |
| Method | Method how the data was obtained |
| Mapping scale | Scale of mapping |
| Resolution | Raster dataset resoltion [m/pixel] |
| Short Reference | Short form of reference to the map publication |
| GIS / data | URL where GIS or original spatial data is |
| Data provider | N/A |
| Profession | Profession of author (for historic maps) |
| Designator | Sheet designator terms following Greeley and Batson (1990) Planetary Mapping. Cambridge University Press. – only if displayed on the map. First letter: target body, 5M: scale, 90/0 etc: center coordinates, OM – orthophotomosaic , T – Topographic data (nom |
| Control | Controlled, semi-controlled, uncontrolled |
| Note on control | Base of control |
| Series title | Title of map series |
| Number of maps (in work) | N/A |
| Number of quads | N/A |
| Quad ID | Quad ID (or quads IDs) contained on the map |
| Map Diameter | N/A |
| Map width cm | N/A |
| Map height cm | N/A |
| Map width px | N/A |
| Map height px | N/A |
| Base type | Type of instrument of observation of base data [naked eye, telescope, spacecraft, space telescope, lander] |
| Location of copy | Library or archive where manuscript or rare copy is kept |
| Ref (literature) | Reference – literature about the map, may be the source of data if the map is not available. Separated with # symbols. |
| Status (2017) | Status of mapping [complete, in progress, in review] (mostly for USGS maps) |
| Aim | Original aim of mapping, if available |
| Notes | Any comments, remarks [Long text, may be multiple paragraphs] |
| Secondary nomenclature | Other languages of the nomenclature |
| Nomenclature Notes | Remarks on nomenclature |
| Photo note | N/A |
| Reference frame | ID from RefFrames |
| web2 | Online references about the map |
| web3 | Online references about the map |
| web4 | Online references about the map |
| ocentric/ographic | Map coordinate [planetographic, planetocentric] |
| N | N/A |
| S | N/A |
| W 360E | N/A |
| E 360E | N/A |
| W 180 | N/A |
| E 180 | N/A |
| W 360W | N/A |
| R 360W | N/A |
| fig1 | N/A |
| fig1 caption | N/A |
| fig2 | N/A |
| fig2 caption | N/A |
| fig3 | N/A |
| fig3 caption | N/A |
| fig4 | N/A |
| fig4 caption | N/A |
| fig5 | N/A |
| fig5 caption | N/A |
| STATUS | N/A |
| Sum | $180 |