Pic du Midi drawings and map of Mercury
Upper row: 1942, Lyot – 25 drawings, 36 inch refractor, 300-500x magnification.
Lower row: 1950, A Dollfus, 60-inch refractor, 750-900x magnification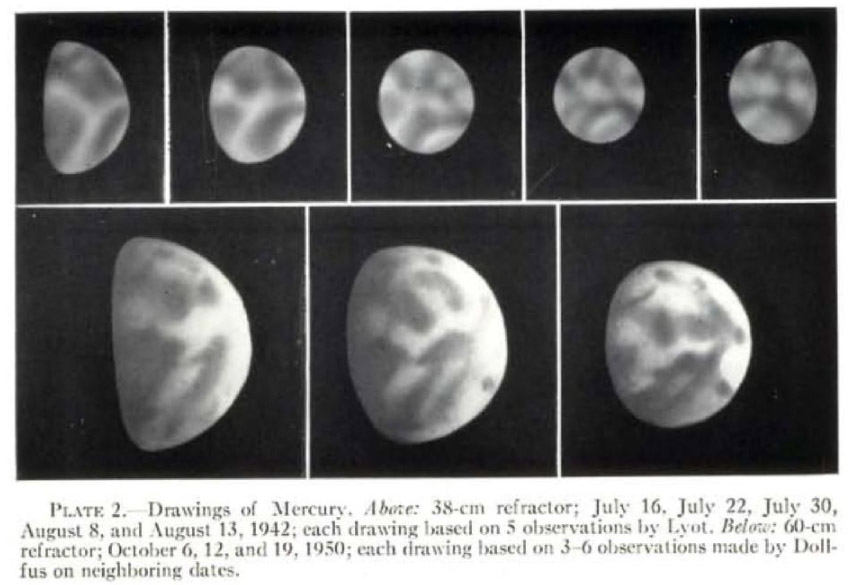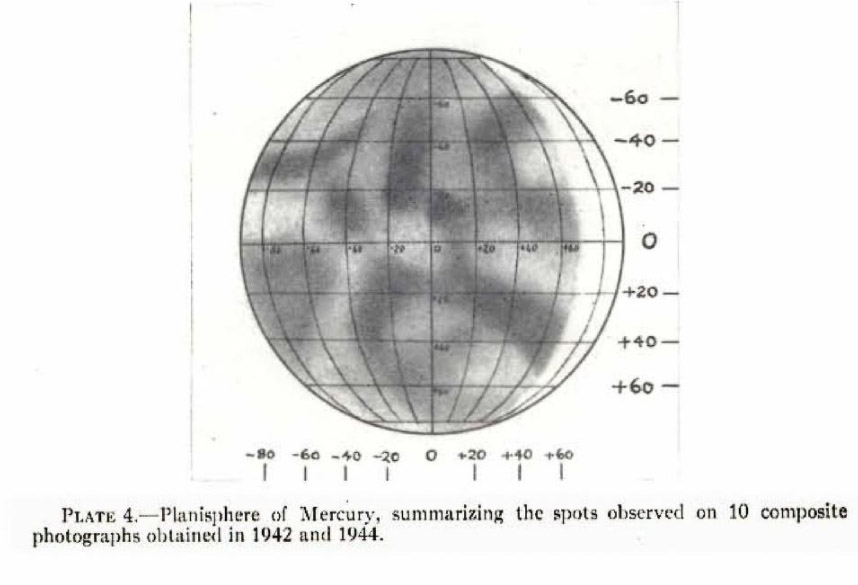 Lyot and Camichel, 1942:  Map from 12 composites. 23 markings were measured.
Source: A. Dollfus: Visual and photographic studies off planets at the Pic du Midi. In: Planets and Satellites, GP Kuiper and B Middlehurst, eds. Chicago Univ Press 543-571.
| Column name | Column description |
| --- | --- |
| Catalog ID (M) | N/A |
| Title | Title of map |
| Author | Name of mapper(s), or author, PI, map editor, illustrator, etc. with roles |
| Nationality | Nationality of author |
| Start date | Year when mapping began / or year or observation |
| Date of publication | Year of publication or completion of manusctipt (empty if not published yet) |
| Body | Target name (planetary body) |
| Online | Online references about the map |
| Projection | Projection of map. 2-hemisphere is shown here. |
| Scale | N/A |
| Orientation | Orientation of map [north up, south up] – only for historic maps (north: cartographic tradition, south: astronomical tradition) |
| Publication type | The type of work that contains the map. [standalone, journal, conference, atlas, book figure, book supplement, book plate, encyclopedia, multisheet, digital] |
| Type, purpose | Type of map purpose [generic, outreach, science, citizen, surface operation (pre mission), landing site (post mission), observer, opposition, index, reference, eclipse/transit/occultation] generic: not defined, outreach: maps for the general public made b |
| Primary Nomenclature | Laguage(s) of nomenclature displayed on the map [Latin, English etc., IAU, informal]. Latin for Latin nomenclature prior to IAU. |
| Ref (map) | Full reference of map publication or publication that contains the map |
| DOI | DOI number of map |
| ID (publication) | ID of map publication or figure number |
| Origin type | If this map is not original, the following codes are used: [L: language variant, N: new print, U: updated edition, C: copied / modified from another map, R: renovation map (digital version of paper map with slight changes), F facsimile. RP: republished in |
| Origin ID | Any maps that this map is based on or copied from. Database ID of original map. |
| Based on map | Name of mapper |
| Base (spacecraft, telescope) | Name of spacecraft / instrument |
| Original title | Title of map in original langage (if not English) |
| Publisher | Name of Publisher; manuscript or self-published. For journals and conferences, the name of the journal or conference. |
| Coverage | Coverage of map [global, hemispheric, regional, local, landing site, landing ellipse, traverse] |
| Target location | IAU name of target feature (if named) or near side, far side etc. (If nothing noted, it is global) |
| Country | Country of Publisher (original/translation) |
| Type, content | Type of map [photo, map, sketch map, drawing, globe, tactile, data]. Data for raster datasets. For vector data, see Feature DB. Drawing: no grid, scale, projection etc. |
| Image base | Base theme of the map [shaded relief, photomosaic, photo, none] |
| Theme | Theme of map [visual, albedo, radar, low sun, topography, elevation, geology, geomorphology, art, nomenclature reference, feature, landing site reference, opposition map, event (eclipse etc) etc.]. Low sun is optical photo with shadows and no albedo. Vis |
| Technique | Cartographic technique [imagemap, datamap, cartographic map, unit map, airbrush, pencil, line drawing/outline, contour lines, DEM, DIM, shaded relief / hillshading, raster data etc.] |
| Style | Details on style |
| Method | Method how the data was obtained |
| Mapping scale | Scale of mapping |
| Resolution | Raster dataset resoltion [m/pixel] |
| Short Reference | Short form of reference to the map publication |
| GIS / data | URL where GIS or original spatial data is |
| Data provider | N/A |
| Profession | Profession of author (for historic maps) |
| Designator | Sheet designator terms following Greeley and Batson (1990) Planetary Mapping. Cambridge University Press. – only if displayed on the map. First letter: target body, 5M: scale, 90/0 etc: center coordinates, OM – orthophotomosaic , T – Topographic data (nom |
| Control | Controlled, semi-controlled, uncontrolled |
| Note on control | Base of control |
| Series title | Title of map series |
| Number of maps (in work) | N/A |
| Number of quads | N/A |
| Quad ID | Quad ID (or quads IDs) contained on the map |
| Map Diameter | N/A |
| Map width cm | N/A |
| Map height cm | N/A |
| Map width px | N/A |
| Map height px | N/A |
| Base type | Type of instrument of observation of base data [naked eye, telescope, spacecraft, space telescope, lander] |
| Location of copy | Library or archive where manuscript or rare copy is kept |
| Ref (literature) | Reference – literature about the map, may be the source of data if the map is not available. Separated with # symbols. |
| Status (2017) | Status of mapping [complete, in progress, in review] (mostly for USGS maps) |
| Aim | Original aim of mapping, if available |
| Notes | Any comments, remarks [Long text, may be multiple paragraphs] |
| Secondary nomenclature | Other languages of the nomenclature |
| Nomenclature Notes | Remarks on nomenclature |
| Photo note | N/A |
| Reference frame | ID from RefFrames |
| web2 | Online references about the map |
| web3 | Online references about the map |
| web4 | Online references about the map |
| ocentric/ographic | Map coordinate [planetographic, planetocentric] |
| N | N/A |
| S | N/A |
| W 360E | N/A |
| E 360E | N/A |
| W 180 | N/A |
| E 180 | N/A |
| W 360W | N/A |
| R 360W | N/A |
| fig1 | N/A |
| fig1 caption | N/A |
| fig2 | N/A |
| fig2 caption | N/A |
| fig3 | N/A |
| fig3 caption | N/A |
| fig4 | N/A |
| fig4 caption | N/A |
| fig5 | N/A |
| fig5 caption | N/A |
| STATUS | N/A |
| Sum | $180 |